The right roof tile adhesive prepares the roof for autumn's harsh weather conditions and makes it easy to carry out a neat and durable installation of the roof tile. "It is one of those tools that has really made the bricklayer's everyday life easier", explains master bricklayer Lars Esbensen.

Extra work has flowed into the construction order books in the wake of the powerful storm, which ravaged the entire country on 28. October. This also applies to the carpentry and masonry industry, where many companies have been busy repairing roofs and installing roof tiles, which have been torn loose during the storm.
Makes the mason's work easier
Lars Esbensen from Esbensen Nielsen is a master mason who has installed many roof tiles both before and after the violent storm. For him, roof tile adhesive is an important tool, which optimizes work processes in several ways:

– Tile adhesive is one of the tools that has really made the mason's everyday life easier. First of all, it makes the roof tiles stick to the building better, which is especially important in the autumn and winter months, where the harsh weather conditions generally make it more difficult for the roof tiles to stick to wood. And here the recent storm has really shown how important it is to use a proper adhesive, he says.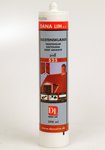 Roof tile adhesive 525
There are several things that should be taken into account if you want to carry out a safe and durable installation of the roof tile. And here the product's durability and efficiency are particularly important factors. Lars Esbensen explains:

– I use Dana Lim's shingle adhesive in connection with assembly tasks, because it contains all the properties that a good shingle adhesive should live up to. Most importantly, it keeps the tiles firmly on the roof. In addition, it is an easy and good product to work with. Not least because it makes it easier to achieve a good result, but also because its ability to stick without sliding down while it dries.

Primer 961
Tips for installing the roof tile
When you install the tag stone, there are several things that you should be aware of. First of all, the adhesive surfaces must be dry and clean and free of grease, dust and loose particles. If you work with clay bricks, it is also important that you prime the stones with e.g. Dana Lim's Primer 961 , after which you let them dry for 30-60 minutes.

Next, you apply the adhesive in the right amount to the full length of the stone, so that you achieve the largest possible adhesive surface. Pay particular attention to getting a sufficient adhesive joint when gluing wing tiles. Press the roof tiles together as soon as possible, i.e. within 5-10 minutes, so you achieve the greatest possible contact.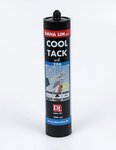 Cool Tack 286
Now you can install the roof tiles in frosty weather
As a starting point, you should not work with roof tile adhesive when the temperature is below 5° C. But so that the frost does not prevent you from carrying out assembly tasks in winter, Dana Lim has just launched Cool Tack , which is the market's first assembly adhesive, which also hardens in freezing temperatures. With Cool Tack, you achieve an equally easy and efficient installation process in winter as in summer, and you can use it for everything from gluing roof tiles and bricks, setting up facade panels and fixing moldings and profiles on the roof. Cool Tack is also available in both red and black, so you always have the option of matching the color of the tag you are working with.

If you have questions about how to use Cool Tack , roof tile adhesive or something else entirely, don't hesitate to contact our technical service .