Greater design freedom has long been high on the consultants' wish list in connection with acoustic ceilings, where the solutions have typically focused more on functionality than on aesthetics. The innovative acoustics company Fade Acoustic Ceilings has therefore, through a close, long-term collaboration with Dana Lim, developed a ground-breaking acoustic plaster, which i.a. enables curved and vaulted acoustic ceilings, and the solution is easy to maintain after installation.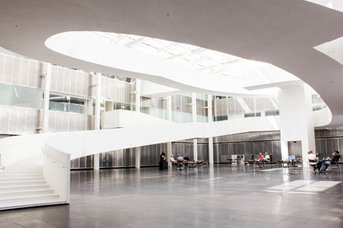 According to the latest figures from the Arbejdstilsynet, an increasingly large part of the workforce suffers from noise nuisance in the workplace, as the proportion of those affected has risen from 42 per cent. in 2012 to 44 per cent. in 2014. At the same time, the authority points out that noise from other people in e.g. large offices can lead to poorer well-being, just as annoying noise can increase stress problems.
There is thus good reason to consider effective noise reduction in both new buildings and renovation projects. Here, however, architects and consultants have long been faced with a challenge. Because while there are many functional acoustic solutions, there is a problem with solutions that manage to combine acoustics with aesthetics. In particular, it has been difficult to find solutions that sufficiently ensure the designer's design freedom in connection with the lofts.
Acoustic ceilings according to any design
The experienced acoustics company Fade Acoustic Ceilings has therefore developed an acoustic plaster, which enables integration into any project and design according to any design. Among the projects that have already used the flexible acoustically plastered ceiling with great success are Restaurant Toldboden, Holmens Kanal no. 9, Budolfi Posthus, the Danish Agency for Economic Affairs, the Danish Environmental Protection Agency, Kokkedal Slot, the Cofoco restaurants, Erik Bagger's office and showroom, Dong's new domicile and 3XN – the domicile.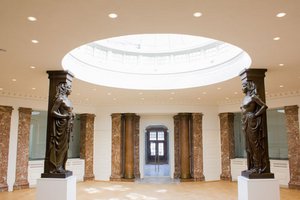 An acoustic plastered ceiling from Fade Acoustic Ceilings utilizes the combination of sound-absorbing 20 mm mineral wool sheets and an airy and sound-absorbing acoustic plaster, which is sprayed directly onto the ceiling sheets. Together, the two ceiling elements ensure optimal sound conditions in any room, while the design possibilities are practically endless. The acoustically plastered ceiling can e.g. also used for curved or vaulted ceilings, in connection with skylights or on walls with a logo in relief.
In addition, if the client or architect so wishes, the mineral wool ceiling panels can be replaced with perforated plasterboard, just as Fade Acoustic Ceilings also – primarily for foreign projects – supplies solutions where the acoustic plaster is applied directly to concrete or plaster.
Acoustic plaster absorbs sound and facilitates maintenance
– The acoustic plaster has been developed with a view to creating the most optimal acoustic effect. The special material composition means that, when applied, the plaster, unlike hard materials, does not reflect the sound, but instead absorbs it, explains laboratory manager Erik Andersen from Dana Lim, who is behind the acoustic plaster development collaboration with Fade Acoustic Ceilings. He continues: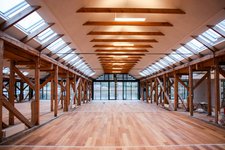 – The solution with Fade Acoustic Ceiling's acoustic plaster also offers great maintenance benefits. In contrast to other similar acoustic solutions, this is far more robust and easier to clean and maintain: Should the loft suffer damage, they are easy to repair, simply by sanding and sanding.
Close ongoing collaboration on product development
Kasper Ehlert, who is responsible for Marketing, Strategy and Legal Affairs at Fade Acoustic Ceilings, emphasizes that the development work in connection with the new acoustic plaster has not only focused on optimizing the sound-absorbing properties of the plaster. Factors such as application properties and color have also played a role.
– Unlike an 'ordinary' putty, this plaster should not be painted over, which means that its color and appearance are of decisive importance for how the finished acoustic ceiling appears. For example, we have developed a plaster variant under the name Albus for those projects where the lofts are to be completely white, he says.
According to Kasper Ehlert, the concept behind Fade Acoustic Ceilings arose when the company approached Dana Lim with a self-produced acoustic plaster, which was to be further developed. It was the start of a close collaboration, where Dana Lim's know-how and technical expertise have played an invaluable role in achieving the goal of a functional hi-end design solution. And the collaboration continues:
– Development cooperation is about further development and new thinking. New applications, new substrates, new appearance, new possibilities for integrating other intelligent solutions in the attic regarding sound and temperature regulation. All together properties, which designers and architects are looking for to public and private builders, who want a solution a little out of the ordinary, he points out in conclusion.