All CE-marked products from Dana Lim have received a declaration of performance (also called 'Declaration of Performance' or simply 'DoP'). The performance declarations are freely available on Dana Lim's website.

New EU rules, which entered into force on 1 July 2013, means that all CE-marked construction products must now be provided with a performance declaration.
The purpose of the performance declaration is to replace the previous declaration of conformity. Dana Lim has prepared declarations of performance for all CE-marked products, and they can be found on the website.
What do the rules mean to you?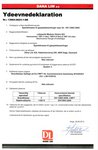 Basically, it is a legal requirement to use products that comply with building legislation. The CE mark, with the accompanying declaration of performance, is therefore the retailer's and the user's assurance that the product has been tested in accordance with applicable legislation, and that the manufacturer guarantees the declared values. And if the values indicated in the CE mark agree with the specific construction task's requirements, you can be sure that the product used is approved for the task. The performance declaration can also be attached to the building saw as documentation for the properties of the product used.

"The new rules simply mean that when you use CE-marked construction products, you must be able to document these products with a performance declaration. As an executor, you must have access to the performance declarations either digitally or on paper, and we have therefore, among other things, published them on our website, so they are freely available to our customers," explains Erik Andersen, who is laboratory manager at Dana Lim. He continues:
"If you as a customer should have any questions about the performance declarations, you are very welcome to call or write to our technical service, who are ready to help."
Why new rules?
Among other things, the new EU rules have been introduced to strengthen the CE mark and give it greater credibility. And to ensure credibility, for example, more control has been introduced.
"The CE mark now functions as a kind of product declaration, where it is predetermined and legally regulated how to test the declared values. The CE mark shows that a construction product must be marketed, sold and used within the EU and thus also acts as a kind of 'entrance ticket' to the market," explains Erik Andersen.
If you have further questions, you can contact our Technical Service .