Every year, the winter cold causes delays on construction sites across the country, because the frost brings the curing processes to a standstill, when assembly work is being carried out. With the assembly adhesive Cooltack, Dana Lim is now launching the market's first elastic assembly adhesive, which also hardens in freezing temperatures, so assembly tasks proceed just as easily and quickly in winter as in summer.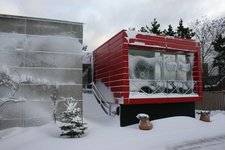 Every year, when the winter cold sets in, construction is affected by costly delays due to low temperatures, which delay the curing processes when assembly tasks are to be carried out. The lack of hardening prolongs the assembly time for everything from roof tiles to bricks, and the problem causes every year that the manufacturers' technical departments are run down by frustrated craftsmen.
– We receive many inquiries over the winter from craftsmen who cannot proceed with their assembly tasks when the frost sets in, and often they have to wait for weeks to proceed with the construction process, says Dana Lim's technician Andreas Thraner.
New assembly glue solves the frost problems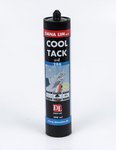 Now, however, there is a helping hand on the way to the frost-stricken tradesmen, because with the elastic assembly glue Cooltack, which has just been launched, Dana Lim has taken the first step on the way towards an effective solution to the cold problems.
– Cooltack has been developed to be able to harden even in sub-zero temperatures, so it provides an equally quick, easy and efficient assembly process in winter as in summer, explains Andreas Thraner and continues:
– Cooltack can be used both for indoor and outdoor tasks in summer and winter, such as e.g. fastening of moldings and profiles on the roof, installation of facade panels and gluing of roof tiles and bricks. It is expensive all round, when things drag on, and therefore we are happy to now be able to offer an effective solution to a problem that thousands of craftsmen suffer from.
Free of phthalates and solvents
Cooltack is currently the market's only elastic mounting adhesive, which can harden in freezing temperatures. At the same time, the environmentally conscious user can benefit from the product's gentleness towards both people and the environment, says Andreas Thraner:
– Cooltack is completely free of phthalates, isocyanates and solvents. Traditionally, solvents have been a prerequisite for assembly in freezing weather. But with Cooltack we have succeeded in developing an assembly adhesive that works effectively in frost without compromising on the environment and working environment.
According to Andreas Thraner, there are several things that one should be aware of when assembly work in freezing temperatures. His primary recommendation is that you always ensure that the surfaces are not iced over, so that you avoid adhesion problems when the weather turns and the ice melts. In addition, it is a good idea as far as possible to store the materials at room temperature, because when stored in freezing temperatures they become harder to apply and work with.
If you have further questions, you can contact our Technical Service .