With the holidays behind us, Lars Christensen welcomes back with a look into the crystal ball for the coming six months: "Over the next few months, we will continue to expand our high level of quality and service, where not least investments in new IT technology will create fertile ground for an even closer dialogue with customers", he points out.
With a well-spent summer holiday behind us, it is now time to look ahead to an autumn, where Dana Lim will continue to expand its position as Denmark's largest producer of glue, putty and sealant. CEO Lars Christensen talks here about the prospects for the coming months.
Even greater value for customers
– We must continue to stick to the core values, which have ensured us constant, stable progress over the years. At the same time, in the coming time we will continue to work on developing the high level of quality and service for which we are known. This applies both in production, but also in the daily dialogue with customers.
– During the autumn, we are implementing a new IT technology, which will make it easier for us to create an even closer dialogue with our customers by e.g. to increase understanding of their needs. The new IT system thus becomes a tool to create even greater value for customers as well as business partners.
More environmentally friendly products on the way
In addition, Lars Christensen points out that Dana Lim's ambitions within environmentally sound production and sustainable product development will continue to play a prominent role. This is not least due to the fact that Dana Lim, with the success story Danaseal Interior 521 , which is approved for Swan Ecolabel construction, has emphatically proven that there is great potential for green solutions in construction.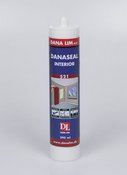 – We would like to help lead the way in sustainable product development, and although we already have many eco-labelled and phthalate- and tin-free products, there is of course still plenty of green potential to develop, explains Lars Christensen and continues:
– We would like to give customers even better opportunities to choose sustainable solutions, regardless of whether they are building new or renovating. But in addition, we believe that sustainability in itself is one of the most important topics in construction right now, and we therefore support the development in the direction of more sustainable products.
Focus on long-term goals
When Lars Christensen is not in the director's chair, he spends his free time with his family in Gentofte. And as a dedicated marathon runner, he looks forward to continuing the constant, purposeful pace that characterizes Dana Lim:
– We stand, where we do today, thanks to the ability to look far ahead and maintain a stable and solid progress with a focus on the goal. In that way, the arduous tasks become edible, and it gives enormous satisfaction when you succeed in reaching the goal, he points out.