Dana Lim is now launching the tap glue Danafix 461, which is designed for tap joints and other joints, where the strongest adhesive strength is required. With an adapted surface tension, the new adhesive is able to meet even demanding gluing work and at the same time deliver a satisfactory result.
Ideal consistency
"Taplime must live up to a number of requirements in terms of consistency and surface tension. Danafix 461 ensures an adhesive joint with an ideal consistency, which is flexible without being either too hard or too soft. The formula not only prevents cracks at the glue joint, but also bubbles and unevenness, which makes it easier for the craftsman to achieve the desired result", says Bo Bremer, who is a senior chemical engineer at Dana Lim.
The solid durability makes the glue particularly suitable for gluing chairs, tables and other furniture, where an adapted surface tension is required. With a strong strength, Danafix 461 is also able to glue even hard types of wood, such as oak and mahogany, which are normally difficult to glue due to their high density. The viscosity of the glue, i.e. toughness, also makes it good for use in dowel assembly and lamination.
Tested by customers
Product development, which creates solutions based on customers' needs, has always been an important cornerstone of Dana Lim's business. Danafix 461 is therefore the result of extensive development work in Dana Lim's technical department, where they have long sought the right formula that meets the customers' wishes. In order to be at the forefront of these wishes as much as possible, it has been chosen to involve a number of customers, who have continuously tested the product, as sparring partners in the development work. According to Bo Bremer, the dialogue with customers reflects Dana Lim's mantra of letting the clients' needs form the starting point for product development: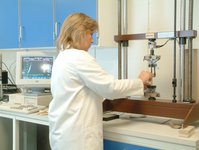 "We have always had a strong focus on developing products based on the needs of our clients, and we believe that we can create the best imaginable solutions if we listen to them. Through a careful sparring process, we get a valuable response, which ensures us optimal conditions to create a quality product, which is carefully matched to what the clients demand".
The right people for the task
It can be a big challenge to develop a tape adhesive that is able to compete with the best products on the market. Therefore, it requires a strong team of skilled chemical engineers, technicians and laboratory technicians to solve the task. For the same reason, Dana Lim always strives to attract the most experienced employees within development and research:
"We would never have been able to develop Danafix 461 if we had not been able to attract some of the most talented people in the industry. The employees are the petrol for our engine – and this is reflected in our customer satisfaction", says Troels Mølgaard , who is head of industry at Dana Lim.
If you want to hear more, you can contact Dana Lim 's industry department .