Industry : New generation of window kit strengthens Obbekjær's products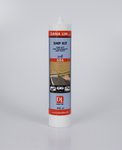 A combination of Obbekjær's many years of experience in the production of windows as well as Dana Lim's development of a unique product for caulking gives the craftsman and the contractor a finished product of the highest quality.
Since 1885, windows and doors have been produced in Obbekær near Ribe. Many years of experience have made Obbekjær Maskinsnedkeri specialists in the production of windows and doors. Being specialists in a field places great demands on the quality of the products. For Obbekjær, delivering an impeccable product with a long lifespan is the core of the business. In that process, Dana Lim is an important collaboration partner, who has developed a special, maintenance-free kit, SMP Kit 686, which does not need to be post-processed.
"In the past, we have had challenges with kit types, whose durability was not optimal. With Dana Lim's SMP Kit 686, we assure the consumer that the kit will last. It requires more care, which is why we have invested in a grouting robot, which places the product precisely. Although there are rising costs associated with the new kit, it is a good future investment, as we are increasing the quality of the overall product", says Thomas Jørgensen, owner of Obbekjær Maskinsnedkeri.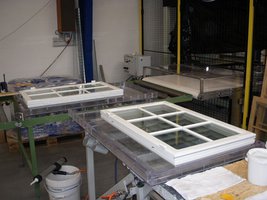 SMP Kit 686 – the future way to putty
In Dana Lim's technical department, it has been a clear mission to meet the demand for a kit with better durability than existing products on the market. The old products required maintenance as well as an understanding of how to use them correctly in relation to achieving optimal curing. With SMP Kit 686 , which is now on the market in an updated and improved version, the user gets a maintenance-free product, which also has a nice finish and a long durability. The product is extremely effective, as it hardens immediately. Thus, there are not the same risks associated with this kit compared to a linoleum kit, which places great demands on handling and finishing. Overall, this means that Obbekjær Maskinsnedkeri can deliver a solid product to the customer.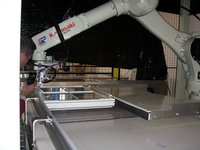 Obbekjær invests in robot technology
At Obbekjær Maskinsnedkeri, which supplies windows and doors to tradesmen and contractors on a daily basis, they have invested in modern robotic technology, which quickly and safely installs e.g. the putty in the window. It is an investment that streamlines the work process for Obbekjær, who can adapt to the market by servicing larger orders without increasing wage costs. At the same time, the robot technology and Dana Lim's SMP Kit 686 ensure that the customer receives an improved and finished product, where maintenance is not necessary for its lifetime.