Dana Lim is now ready with a complete series of quality joint compounds with a range of top competences within each of their areas of application. With the new Danaseal series, better and more durable results are within reach thanks to properties such as optimized working and sliding capabilities and not least a strong environmental concern.
With the new product series Danaseal, Dana Lim has just launched four specialized quality sealants for use within each of its areas of application. The series has been developed based on criteria such as quality, good working and sliding properties as well as a solid environmental profile. Lars Wulf, who is marketing manager at Dana Lim, explains:
Acrylic sealant prevents shrinkage
– Danaseal is largely the result of our attempt to meet some of the challenges that craftsmen experience in their daily work. A good example is Danaseal Acryl 504 , which i.a. has been developed based on enquiries, which we have regularly received from craftsmen. Their frustration often boils down to the fact that the acrylic sealant they use does not have the necessary elasticity, and that unwanted shrinkage grooves often occur in the building materials.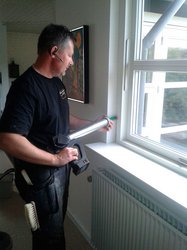 – Therefore, Danaseal Acryl 504 has a high elasticity compared to other acrylic sealants, and so it minimizes the risk of shrinkage. In addition, it has a surface that is exceptionally good for painting with interior paints. Last but not least, it is free of phthalates and meets the applicable criteria for Swan-labelled construction, he continues.
Flawless interior joints
Another phthalate- and tin-free solution in the new series is Danaseal Interior 521 – a specially developed elastic sealant for internal jointing, which meets the applicable criteria for Swan-labelled construction. Once again, the craftsman's work day formed the starting point for product development, and according to joint contractor Hans Jørgen Makne, the new joint compound has already aroused great enthusiasm among customers:
– Danaseal Interior 521 has a very supple and delicious consistency, and this makes it easier to scrape and far less likely to "follow" the stick when the joint is to be formed. And because its long opening time allows you to lay up to 20 m of joint, which can be processed without the joint peeling, which makes our work process considerably more efficient. Above all, the very matte and dry surface makes the joint extremely dirt and grime-resistant, so the customer always enjoys a clean and neat joint, he explains.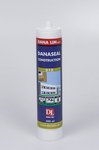 Highly elastic facade sealant
For outdoor tasks, the series includes the highly elastic facade sealant Danaseal Construction 515 , which ensures extremely good adhesion to most building materials without a primer, including most porous materials, bricks and concrete. With a neutral curing system based on polysiloxane, the product is free of phthalates, solvents and isocyanates, thus improving the craftsman's working environment. It is extremely UV- and water-resistant, has a self-cleaning surface and, like Danaseal Interior 521 , it has excellent gliding properties in both cold and hot temperatures.
Unsurpassed adhesion on most building materials
– Danaseal Universal 510 also offers the craftsman solid sliding and working properties as well as an unrivaled adhesion to most building materials. The neutral, highly elastic alkoxy silicone ensures marble and natural stone quality with fungicides, and there is no risk of smearing on marble, natural stone, granite etc., explains Lars Wulf and continues: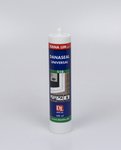 – All in all, it is a product series that makes the craftsman's working day more efficient and, not least, his results better. Danaseal Interior 521 is now in stock and is already a hit among craftsmen, while Danaseal Acryl 504 , Danaseal Construction 515 and Danaseal Universal 510 can be ordered from 1. July. And as always, our technical service is ready by the phone if you have any questions about the use of our new series, he concludes.