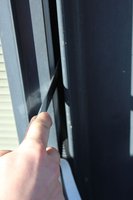 For joint contractor company WR fuge, it was no challenge to replace the joint tapes in one of Frihavnen's many office buildings. Here, the old pre-compressed joint tapes were replaced with new permanent diffusion-open and elastic F600 joint tapes in a simple and time-saving work process.

At Dampfærgevej 24 in Frihavnen in Copenhagen, the office building has just had all the joint tapes in the window areas replaced. The existing joint tapes have therefore been replaced with new F600 Joint tapes from Dana Lim, which ensure the windows a permanent diffusion-open and elastic joint. Brian Westergaard Hansen is co-owner of the joint contractor company WR Fuge, and he has been responsible for the process of replacing the joint tapes. He explains:

– The window areas in the office building were equipped with old pre-compressed joint tape, which had long since served its military service. The building is next to the water, and the nature of the old joint tapes meant that it drew in the building's windows, says Brian Westergaard Hansen.
Expanding joint tape ensures effective sealing
Joint tape F600 , where i.a. used for both indoor and outdoor joints around doors and windows, in facades and on roofs as well as between wooden and metal building elements, is a pre-compressed sealing tape and works e.g. as an alternative to mortar joints. After installation, the joint tape expands and ensures an effective seal as well as a permanent diffusion open and elastic joint. The self-adhesive joint tape is easy to install and is available in a number of different colors and sizes for use in joints from 5 mm to 25 mm wide.

F600 is based on a specially impregnated polyurethane foam, which i.a. ensures permanent weather resistance, tightness against driving rain and durability despite the moist and salty sea environment that surrounds the office building.
An optimized work process
F600 was installed between the office building's windows and wall, after which the impregnated joint tapes expanded. According to Brian Westergaard Hansen, the bands' expanding properties were an advantage, helping to make the work process more efficient.
– A major advantage of F600 is that the joint tape can both contract and expand as the building materials work. It expands relatively quickly, as soon as you open the roll and start to assemble it, and at the same time it is reasonably easy to put in, explains Brian Westergaard Hansen and continues: – The joint tape has a new width dimension of 8-20 mm and can be used with other words expand up to 20 mm. This gave us an advantage in our work, as the belt's flexibility meant that we did not need to bring so many thickness variants in the lift, when we had to replace the old belts. In other words, the new width dimension fits a large number of different joint widths.
If you want to know more about our products, you can contact our Technical Service.