With Dana Lim's new neutrally hardening sealant Danaseal FDA 511, there is a new alternative to similar sealant types based on acetic acid, when grouting is to be done in buildings for the food and pharmaceutical industries. The silicone-based sealant has marble and natural stone quality at the same time and is therefore also suitable for grouting e.g. delicate marble tiles.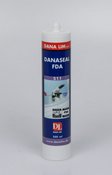 Dana Lim is once again ready with a new product that makes it easier to be a craftsman in Denmark: The new sealant Danaseal FDA 511 , which has been developed for use in e.g. cleanrooms and kitchens, is silicone-based and manufactured without the use of acetic acid. There is therefore an end to strong vinegar fumes when grouting in buildings for e.g. the food, cosmetics and pharmaceutical industries.
Easier to achieve great results
– Danaseal FDA 511 has first and foremost been developed to provide the craftsman with an up-to-date product for the very demanding grouting tasks, which are located in rooms, such as e.g. will be used for food production, the manufacture of medicine, laboratories, operating theatres, etc., explains sales manager Ole Krogfelt.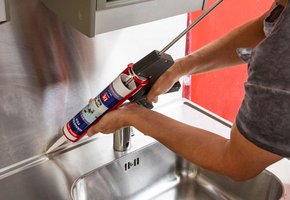 – At the same time, the new sealant gives a marked boost to the craftsman's working environment, as in addition to being odor-neutral it is also neutrally hardening and elastic. This means that the joint compound is incredibly easy to work with and slide out, so it is much easier to do a great piece of work, he continues.
Highest quality standard
Danaseal FDA 511 is, as the name suggests, tested and approved by the American Food and Drug Administration (FDA), which operates with some of the world's strictest quality standards.
– With the FDA approval, there is thus 100 pct. assurance that the new sealant does not contain harmful substances or substances that can be washed out or identified subsequently in e.g. food, where the weather has been in contact with the sealant, says Ole Krogfelt.
Record movements of up to 25 pct.
The emission-free sealant is also suitable for grouting e.g. delicate natural stone and marble tiles, as there is no risk of the grout leaching into the stones, discolouring them. In addition, it is generally suitable for use on e.g. glass, enamel, hard PVC and stainless steel.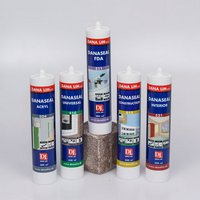 – Danaseal FDA 511 is, like the other products in our new Danaseal series, developed to solve some very specific challenges, which the craftsman faces on a daily basis. Precisely for this reason, we have focused heavily on optimizing the properties of the joint compound. We have, among other things, achieved an elasticity which means that the grout can absorb movements of up to 25 pct., which is quite unusual for this type of grout, points out Ole Krogfelt in conclusion.