With the upgrade of the classic one-component glues D4 Danafix 446 and 449, there is good news for both end users and manufacturers of wooden furniture and fittings for bathrooms, kitchens and wet rooms. The upgrade now provides adhesive joints in water resistance class D4 with a high heat tolerance. At the same time, the glues do not require the use of time-consuming hardeners, and they quickly penetrate the wood and create a strong bond – resulting in a more efficient gluing process and higher product quality.

Dana Lim is now launching two upgraded adhesive products with great benefits for both the wood and furniture industry as well as the end users. Danafix 446 and 449 now provide adhesive joints in water resistance class D4 and with high heat tolerance. In this way, they ensure e.g. glued wooden furniture, laminated furniture solutions and window frames in wood-aluminium against shortened lifespan due to moisture and temperature fluctuations.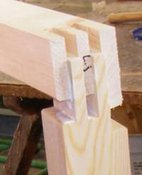 Dense polymer mesh keeps water out
Danafix 446 and Danafix 449 are PVAc-based and can be used for virtually all types of laminations and assemblies. Danafix 446 is particularly suitable for gluing e.g. finger joints, where a transparent joint and water resistance class D4 are required, while Danafix 449 is particularly suitable for gluing laminates. For outdoor use, Dana Lim also recommends that the glued products are reinforced with an effective, covering surface treatment such as paint to further extend the service life.
– These are significantly improved versions of the well-known cross-linked PVAc glues. When they solidify, the polymers in the adhesives form a fine-meshed net, which very effectively prevents water from penetrating the adhesive joint from the outside, explains Troels Mølgaard, who is industrial manager at Dana Lim.
– The result is an adhesive joint, which provides strong and long-lasting joints in wooden furniture and i.a. can also be used for gluing aluminum to wood in e.g. window frames, he continues.

Use directly from the container
Danafix 446 and 449 are both one-component adhesives, which can be used directly from the container, as they do not require the addition of time-consuming hardeners. At the same time, they are easy to use in production, points out Troels Mølgaard and elaborates:
– Both glues have excellent wetting properties, which means that they quickly penetrate the wood and create a very strong bond. It benefits both the efficiency of the gluing process and the quality of the finished glued products. The adhesive surfaces must only be adjusted, cleaned and dry before you glue them on, and you achieve the best results on newly processed wood. The adhesive joints usually reach their full strength approx. 24 hours after application, and they are generally fully moisture resistant after a week.
If you have any questions, you can contact our Technical Service.