The latest version of Dana Lim's floor glue machine, which over the past several years has been a popular tool for fully gluing wooden floors, was recently launched with a replaceable insert, which makes cleaning easy and simple.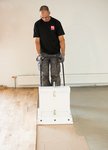 Dana Lim's new floor gluing machine is the latest in efficient and ergonomic gluing, and is a Danish developed and produced tool for laying out glue when gluing wooden floors. The glue machine is ergonomic and provides a good working environment, just as it uses neither electricity nor compressed air. Dana Lim also gives companies the opportunity to choose between renting the machine or, as something new, investing in the gluing of the future.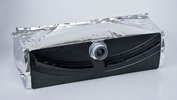 Sales manager in Dana Lim's flooring department, Jan Georgsen , has been involved in the development of the glue machine. For him, it is important to highlight the new insert, which is located in the glue chamber, as there had previously been a desire for the floor glue machine to be easier to clean, precisely that problem has now disappeared: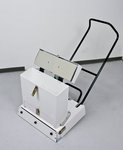 "We have developed a completely new, patented system with a plastic insert, so that minimal time will now be spent on cleaning. In addition, the new version is easier to use, and you are guaranteed a quick and accurate layout, says Jan Georgsen.
Less wear and tear and a better working environment
Dana Lim's glue machine was invented by the floor installer Nikolai Gaardsøe, who for approx. 12 years ago could see that there must be an easier method for applying glue on large surfaces than by hand. By using Dana Lim's machine, you avoid the hard wear and tear on your own body, and at the same time it gives Jan Georgsen the opportunity to say:
"Nikolai Gaardsøe invented the glue machine, and he is still involved in the development. The basic advantage of the glue machine is that you pull it behind you – and you can do that with your back straight, so you get a comfortable working position. In contrast to laying out glue with a hand trowel, it is now him with the glue skill who has the advantage," says Jan Georgsen
A more durable floor
In addition to a better working environment, the gluing machine from Dana Lim also provides a nicer path, and the uniform layout makes it easier to continue working with the floor.
"Compared to using a hand trowel, the glue machine automatically levels out, and unevenness in the substrate is evened out. With a flat layer, the load is minimized, and you avoid hollow sounds on the floor afterwards, which can be the case by hand trowel. Our gluing machine simply helps to create better durability for the project," says Jan Georgsen and emphasizes further:
"On new construction, there can be problems with residual moisture from concrete, which is not 100% dried out, which can cause the wood to crack. Here, the glue machine with the right glue and the right amount of glue helps to slow down moisture penetration from the concrete and ensure optimal results."
The gluing machine is very suitable for floor projects with larger rooms, where the floor gluing machine will save a lot of time. Read more at danalim.dk
If you have any further questions, you can contact our floor Sales Manager Jan Georgsen or our Technical Service.