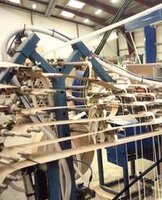 At Dana Lim, there is collaboration across the organization to develop adhesive solutions that suit the needs of individual industrial customers. The sales department and the technical department are in constant dialogue to ensure a high quality in the product and service provided by Dana Lim.
If you take a walk through Dana Lim's property in Køge, you will quickly see how all departments are closely connected. From the administration corridor to the production halls is just a stone's throw away. The same applies from the sales department to the technical department. The short distance is not only reflected in a physical sense, it is also expressed in the close cooperation between the departments when a product is to be developed for an industrial customer.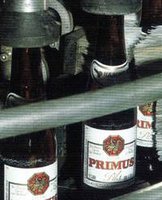 When an industrial customer wants a special adhesive solution for their specific needs, close cooperation begins between the sales department, the technical department and, most importantly, the customer. It is typically the sales department that makes the first move. An industrial salesperson is associated here, who is equipped with a broad technical knowledge and has experience with both adhesive solutions and machines. In this way, Dana Lim ensures that customers receive the best possible advice during customer visits. The needs of industrial customers are largely individual, so if a product is requested that does not already exist, the ball is thrown from the sales department to the technical department.
Chemical engineers, laboratory technicians and technicians work in the technical department. Together, they develop or further develop products that will meet the customer's needs. Many elements come into play in this process. For example, there may be specific environmental requirements that must be complied with. Therefore, the technical department has an environmental team with expertise within the legal requirements, which are set in relation to the environment and certifications.
One integrated solution.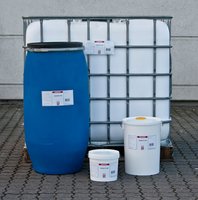 At Dana Lim, thoroughness is important. By being thorough, a better basis is created for a long-term collaboration. This means that Dana Lim delivers one integrated solution and thus makes its extensive and technical know-how available from the time the inquiry is received, the product is developed, tested and approved until it is implemented in the individual company's production and for follow-up advice. For example, Dana Lim ensures that the entire set-up at the customer is optimal and that the glue is adjusted. By having an ongoing dialogue with the customers and always being available, if problems arise, Dana Lim can deliver one integrated solution, which creates security for the customers:
"We always try to solve the task to the fullest and therefore offer that we regularly inspect and fine-tune the setup at our customers. That way we can maintain a high level of service, which is an important part of our work to maintain satisfied customers", says Troels Mølgaard , industrial sales manager at Dana Lim.
A collaboration for quality.
When NJA Furniture needed a new glue supplier, the requirements were high quality, a favorable price and a good service. All three needs could be met by choosing Dana Lim as a business partner. Morten Ramskov, COO at NJA Furniture says:
"When we had experienced a number of glue cracks in the previous production, we wanted to start a collaboration with a new supplier, and here the choice fell on Dana Lim. In general, it is important for us that our suppliers can deliver a high level of service and quality , which reflects our products and Dana Lim belongs to that category. It wasn't long before we tested the glue from Dana Lim, where we experienced a marked drop in scrappages, until we could use it in all our glue plants".
A collaboration for security.
A cold shudder ran through Skamol when they received the news that their Swedish glue supplier went into bankruptcy and therefore had to immediately find a new supplier to develop a special glue with completely unique properties. For Skamol, it is alpha and omega that their customers are pressured by the product they deliver. Hanne Christensen, purchasing manager at Skamol, says:
"Our customers expect a high standard, so we put a lot of focus on that when we choose a new supplier. We must be able to guarantee 100% security to our customers, and that requires uniform production. In addition to being able to deliver Danish quality products, we can Dana Lim undertake many different tasks, and with their expertise they are good to have on the sidelines, if we are to meet customers' specific requirements".
Both in the collaboration with NJA Furniture and Skamol, the ongoing dialogue with the customer has been central to being able to meet the customers' needs:
"We continuously think in terms of overall solutions, of which the ongoing dialogue is why back up, service and sparring are very important parameters for us to achieve satisfied customers", says Troels Mølgaard, industrial sales manager at Dana Lim.
Contact Dana Lim's industry department, click here .