During the winter months, you must take the right measures to properly protect the building against moisture and cold. This requires the building's winter order. The winter measures also contribute to you working more efficiently and safely.
In the period 1. November to 31 March, the construction is subject to the winter order. This means that a number of preventive measures must be taken to secure the building against the damage that the period's cold and moisture can cause. It is partly about maintaining the quality of the work carried out, but also about your working environment, regardless of whether the work is carried out indoors or outdoors.
Read the entire winter order here
https://www.retsinformation.dk/Forms/R0710.aspx?id=137101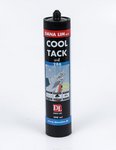 Good advice on winter grouting
– In general, we do not recommend that you grout at temperatures lower than +5 degrees. C. This is because grouting at lower temperatures increases the risk of the adhesion being destroyed, so joint slip occurs due to condensation, frost and ice on the joint surfaces. The low temperatures mean that film formation and thorough hardening take longer, which means that the surface of the joint becomes more easily contaminated, just as the joint becomes less resistant to mechanical influences, explains Thomas Therkildsen from Dana Lim 's technical service .
Therefore, should you grout at temperatures below +5 degrees. C, it is important that you take the right precautions. In this regard, Dana Lim recommends that you store your materials at between +15 degrees. C and +25 degrees. C. In addition, you should dry and heat the joint surfaces before starting work. Finally, you must ensure that the sealant is protected against dust, snow, leaves, mechanical influences, etc., and you may, if necessary, have to establish a cover or cordon off the work site.
If you are going to do assembly work in the winter cold, you can advantageously use our assembly glue Cool Tack 286 , which works at temperatures down to -5 degrees C. It is particularly suitable for installation tasks, where e.g. panels and other board materials must be glued up quickly and securely, and it is also suitable as a roof tile adhesive.
Frost- and moisture-proof indoor work
The BAT cartel also recommends that you, together with the other actors on the construction site, secure indoor work areas against cold and moisture by making a proper temporary seal of floor separations and roof structures. In this way, you avoid snow or rain entering the building, as well as reducing cold or heat loss.
(link to the BAT cartel: http://www.batkartellet.dk/pictures_org/Vintermeaserningen.pdf )
In addition, measures should be taken to effectively close facade openings, dry out precipitation moisture and drain away rainwater and meltwater. Depending on the development of the weather, it may also be necessary to carry out snow removal on unfinished floor separations and roof decks, just as measures for heating and ventilation of the building may be necessary to maintain a proper temperature and humidity indoors.
In connection with the establishment of winter measures on the construction site, it is a good idea to hold a winter meeting, where you, together with the client and construction management, plan what needs to be done and when. In addition, it is important to agree who is responsible for which measures, so you avoid disputes if disagreements arise along the way.
Here you can e.g. get inspiration from the consultants in Byggeriets Arbejdsmiljøbus at www.bam-bus.dk . If your company is a member of Dansk Byggeri, you can also draw on the winter consultants' advisory service, which you can find at http://www.teknologisk.dk/ydser/vinterkonsulenterne/5530 .