Fire Guard, which is Dana Lim's new product range for passive fire protection, has just been used for fire protection in Copenhagen's famous City Hall. About. 30 new fire doors have been fireproofed with Fire Guard, which has also streamlined the work process for the joint contractor.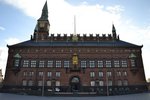 Copenhagen's more than 100-year-old Town Hall recently had approx. 30 new fire doors, as the building's top floor was to be fireproofed. In order to strengthen the passive fire protection and reduce the risk of the spread of fire, heat and smoke, Dana Lim's Fire Guard S 564 , which is part of the new fire product series Fire Guard, was used to seal the doors. Rasmus Qvist , who is key account manager at Dana Lim, elaborates:

– Fire Guard S 564 is a neutral-curing silicone sealant, which forms a highly elastic joint, which can absorb movements of up to +/-25 pct. of the width of the joint. In addition, it is easy to process and is characterized by its high climatic resistance.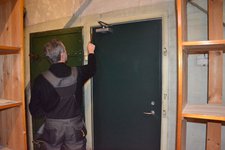 Neat and smooth joint quickly and easily
The Fire Guard series has been developed to make it easier for the craftsman to carry out passive fire protection by e.g. to facilitate the work with fire-proof sealing of windows, partition walls, attics, floors, floor separations and doors.

Joint contractor Kim Høj has enjoyed precisely this feature. As the owner of Høj Fugeteknik, which has been responsible for the grouting of the fire doors at the town hall, he had chosen to use Fire Guard to carry out the grouting solution – a choice that has given him a number of advantages in the work process:

– Fire Guard is both good and easy to use. The joint compound is easy to press out with a joint gun, and it is easy to slide, so you quickly achieve a nice and smooth surface, he explains.
An efficient and economical solution
For Kim Høj, it has been both time-saving and economically advantageous to use Fire Guard for the grouting of the town hall's fire doors. This is due, among other things, to the fact that Fire Guard S 564 can be used for grouting bagstop, which makes the use of glass wool completely redundant.

– When working with fire joints, you normally have to use insulating material, which often makes the work difficult. With Fire Guard, you can use completely ordinary bagstops, which every grouting contractor takes with him to work, which means that there is both time and money to be saved, explains Kim Høj and continues:

– Fire Guard makes it much easier to lay a joint, because the round fit of the bag stops makes it easy to achieve exactly the right dimension of the joint. Last but not least, it is an advantage that Fire Guard reduces the need to insulate to the same extent as with other products. This is therefore a solution that both makes the work process easier, cheaper and with a fully satisfactory result.

Fire Guard is sold in selected hardware stores and plumbing wholesalers across the country. If you have any questions about the product range, do not hesitate to contact Dana Lim's technical service .