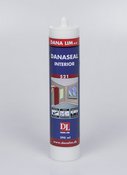 Dana Lim has just launched a tool, which has already aroused great excitement among professional joint contractors: The new elastic phthalate- and tin-free Interior joint Danaseal Interior joint 521 makes it easy to achieve interior joints, which preserve a clean and smooth finish.
With the new Danaseal Interiørfuge 521, Dana Lim has developed a solution, which is tailored for indoor grouting by e.g. plaster walls and around windows and doors. The elastic interior joint is i.a. characterized by its matte and dry surface, which makes it extremely dirt-repellent. At the same time, its long processing time makes it easier to achieve a beautiful finish.
Joints free of dirt and grime
In addition to being antistatic , Danaseal Interiørfuge 521 is characterized by being very smooth and dry on the surface – a property that makes the joint extremely resistant to both dirt and grime. In addition, its easily workable and flexible consistency means that the optimal result is always within reach.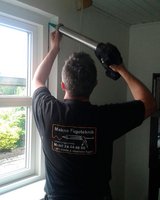 Hans Jørgen Makne is a joint contractor and owner of the company Makne Fugeteknik. According to him , Danaseal Interiørfuge 521 contains a number of properties, which contribute to making his working day more efficient and, not least, his results better:
– We have used liters of Danaseal Interior Sealant 521, since Dana Lim sent it on the market recently, and this is due, among other things, to the fact that our customers are very excited about the results it gives. Their positive response is due, among other things, to the joint's very dull and dry surface, which has the positive property that it is extremely dirt and grime-repellent, so the customer always enjoys a clean and neat joint. Many elastic joint products, which appear glossy, have a tendency to become sticky and thus greasy, as well as absorbing dust and dirt with the result that the joint looks dirty, unwashed and with a tendency to turn yellow, explains Hans Jørgen Makne.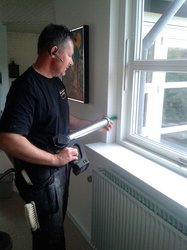 Consistency makes work more efficient
– In addition to giving great results, it is crucial for us that the products we use are good to work with. Certain joints have the unfortunate effect that you run the risk of "pulling" the product along when you glitter, after which time must be spent smoothing out the unevenness. The new interior grout has a far more flexible and delicious consistency, and this makes it easier to scrape and far less likely to "follow" the stick when the grout is to be formed, which makes our work easier and more efficient. And because due to its long opening time, you can lay up to 20 m of joint, which can be processed without the joint showing skin, which makes our work process far more efficient, he continues.
Danaseal Interior Joint 521 has a high elasticity compared to other joint compounds, so the joint contractor avoids problems with shrinkage cracks in the internal joints. And because it has been developed for indoor use, it is free of UV protection, which, combined with its phthalate-, tin- and odor-free content, makes it a more environmentally friendly choice for both the craftsman and the end user.
If you want to know more about Danaseal Interior Joint 521, you can contact our Technical Services.