The winter months are often hard for your building materials, and the low temperatures can quickly lead to expensive delays and overpayments on the construction site. But if you take your precautions, you can avoid anything from longer curing times to damaged materials in the first place.
Many building materials, such as sealants, cements and paints, are sensitive to winter's low temperatures and are therefore at risk of being damaged if they are exposed to frost. In order to get ahead of the cold season without expensive extra purchases, it is therefore important that you take your precautions in connection with the storage and transport of materials.
Precautions that work
An effective way to frost-proof building materials is to store them dry and frost-free. It can e.g. be by means of insulating mats and flamingo boxes in connection with transport, so that they are not left in a cold warehouse overnight, just as a covered and heated warehouse is often the best solution on the construction site.
– When the low temperatures set in, it is important to protect the building from cold and drafts. When you use materials, you should therefore, as a starting point, be aware that the temperature in both rooms and constructions is sufficiently high, as the frost quickly settles in e.g. concrete constructions. Here you can advantageously ensure that the construction is wrapped up, heated up and the facade openings closed – not only during working hours, but also both before and after you arrive, says Lars Wulff, who is marketing manager at Dana Lim.
In addition, you should remember that the period from 1 November to 31 March is subject to the Winter Decree. This means, among other things, that you must pay attention to whether seasonal and weather-specific measures are taken to adequately secure the building against damage from frost and moisture.
You can read more about the requirements in the Winter Decree at Dansk Byggeri:
www.danskbyggeri.dk/for+members/teknik+-c12-+processer/byggekrav+og+processer/vinterbyggeri/vinterbekendtg %C3% B8relsen
Slip for delayed assembly work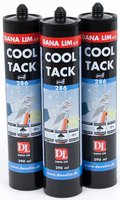 The construction industry is affected every winter by expensive delays, when the low temperatures make their entrance and extend the assembly time on everything from the roof tiles to the bricks due to lacked curing. That is why Dana Lim last winter launched the elastic assembly glue Cooltack , which has already come to the rescue of frost-stricken craftsmen everywhere on the country's construction sites.
– Cooltack is currently The market's only elastic assembly adhesive, which has been developed to be able to harden even in sub-zero temperatures, so it provides an equally quick, easy and efficient assembly process in winter as in summer, explains Lars Wulff and continues:
– Traditionally, solvents have been a prerequisite for assembly in freezing weather. But with Cooltack , the environmentally conscious user gets an assembly glue that works effectively in frost and is at the same time completely free of phthalates, isocyanates and solvents.
Cooltack is suitable for both indoor and outdoor tasks all year round and has already become a popular choice in connection with fixing moldings and profiles on roofs, installing facade panels as well as gluing roof tiles and bricks.