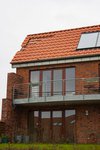 Of course, the brighter and cooler times are just around the corner, but the unwelcome traces of winter on the house linger long after spring has made its entrance. If you, like thousands of both craftsmen and homeowners, are ready to give your house a loving spring treatment, then here we give you the best tips and tricks for dealing with the most frequent problems that the house incurs during the winter.
MS Building joint 522
The arrival of spring is often a good time to give the joints around e.g. windows and doors a loving inspection. If there is a need for more than just an inspection, you can go a long way with an all-round solution such as MS Byggefuge 522 , where a wide comb can be used to repair and replace the joints. The product can also be used to seal cracks and defects in flagpoles, fences, masonry, overhangs and windows. At the same time, it is easy to achieve a beautiful and durable finish, as the mass can be painted over.
Linoleic kit 682
When caulked windows succumb to damage during the winter, the reason is often that the caulking is penetrated by water because it has become too old, and the result is that the caulking falls off as soon as the frost sets in. As a wooden window without sealant will rot, it is important to start in time, and spring is the ideal time to repair the damage. By using Linoliekit 682, you achieve tight protection as well as a nice and smooth surface, which secures the windows for many years to come.
Turbo Tack 291
The powerful storms that have raged there during the autumn and winter have kept both craftsmen and house owners busy installing everything from detached tiles and house numbers to lamps and coverings on garden walls. With the solvent- and phthalate-free universal products Turbo Tack 291 and Montage Ekstra 292, you are equipped to fix everything that has come loose from the building's surfaces, whether it is brick, concrete, wood, glass, painted surfaces, etc.
Roof tile adhesive 525
As the building's most exposed part, the roof often gets a hard ride during the winter, and therefore e.g. broken or loose roof tiles are a frequent phenomenon. The fast-hardening Tagstenklæber 525 makes it easy to carry out a neat and durable repair to the roof, which at the same time prepares it against upcoming storms. In addition, it can also be used for gluing and sealing coverings, ventilation hoods, shoe trends, etc.
Roof tight 543
If you work with roofs based on roofing felt, the adhesive and sealing compound Tagtæt 543 can be good to have at hand. Tagtæt 543 has a unique ability to adhere to roofing felt, which makes it suitable for gluing and sealing roofing felt as well as sealing cracks and fissures in flashings, chimneys, etc.
Rep Tape 988
Many homeowners suffer from leaking gutters, and this is where the self-adhesive repair tape Rep-band 988 can come to the rescue. The sealing Rep tape has a life-extending effect on leaky gutters, drain pipes, shoe trends etc. and can replace or postpone costly repairs.
Do you have any questions regarding handling of the above types of improvements, other forms of repairs, how to use our products or something else entirely, so do not hesitate to contact our technical service .