Despite the high Danish salary level, Dana Lim sees no reason to move production out of the country – on the contrary, the focus is on continuing to produce and develop in Denmark. The domestic workforce guarantees high product quality and continuous optimization of the business. The result, which is revenue growth from DKK 20 million. NOK in 1988 to 291 million NOK in 2012, speaks its clear language.
In recent decades, Danish companies have moved hundreds of thousands of jobs out of the country to low-wage countries primarily in Eastern Europe and Asia in order to maintain competitiveness. As a marked exception, however, Dana Lim has chosen to go against the grain by maintaining and expanding the Danish production. The strategy has resulted in revenue growth from DKK 20 million. NOK in 1988 to 291 million NOK in 2012.
Skilled employees create growth
Dana Lim is today Denmark's leading producer of adhesives and sealants for the construction industry and industry, which means that our high-tech and often custom-made products place great demands on production and development. That is why it is important to be able to draw on competent and committed work force, explains managing director Mogens Overgaard: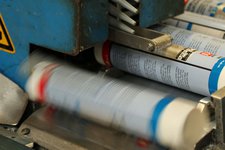 – We shall not move very far up the technology ladder, until it pays to produce here at home rather than in China. The Danish workforce is generally well-educated, independent-thinking, creative and efficient. Those skills are crucial to being able to maintain a high product quality and at the same time further develop the company in a sensible direction. He continues:
– We may have the slightly cheeky idea that the relocation takes place when things have already started to go cold. There has not been sufficient focus on optimizing and making your business more efficient at home. There is great potential, and it is too easy to just give up and move out of the country.
Also a gain for society
Although the decision to continue production and development in Denmark is commercially justified, for Dana Lim there is also an important societal perspective in preserving Danish jobs. The company thus acts based on the slogan 'We stick together in Denmark', and Mogens Overgaard elaborates:
– It is not the case that we have a paragraph standing, which dictates that production must take place in Denmark. It has only proven to be the right way to go in terms of matching our foreign competitors and ensuring continued growth in the company. But in addition, we believe that it is also to the benefit of society when companies manage to preserve jobs in the country. We all win from that.